Well the end of January came and the entry form was written and posted as soon as possible. The Ben race fills up quickly so you have to get your entry in  soon. 4 weeks later the provisional list of entries was published and …… my name wasn't on it 
I mailed the race secretary to see if my name was on the provisional list and he kindly mailed me right back to say that I hadn't completed my date of birth and that if I mailed him back with it then i would be in. So by return e-mail it was sent and he confirmed my entry. Cool!!
With the Ben in mind I planned to do a few more bigger races. I started entering longer LDWA events early in the year and also planned to enter Borrowdale (intentionally) this year. But as the year went on the longer races didn't happen as I planned. But on a few shorter races I ran a little better and I was happy that my general fitness was at least similar to that of last year.
Chris and I make a weekend of this race, well it is a 6 hour drive from Wigan. Chris flew up from Stanstead to Glasgow again and I drove to Glasgow Airport to collect him and continue the drive on. Albert was supposed to be joining us this year but the weekend before he'd gone off gallivanting to the Pyrenees to do a 100 mile ultra race and come back with his feet in tatters so pulled out.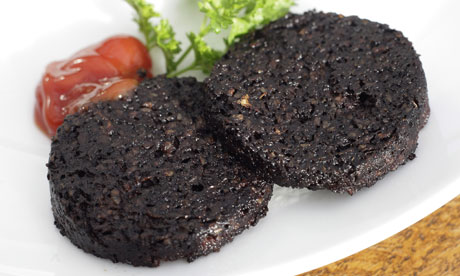 The main thing I was looking forward to was the black pudding. I love Stornoway black pudding and this weekend gives me my fix. We arrived at the hotel, threw our bags in our rooms and went straight out to the Grog and Gruel. it's a great pub and always busy on this weekend. The best bit though is the starters, Black pudding with oat cakes. Personally I don't eat the oat cakes I just want the pudding. A few drinks with the meal and a couple after and it was an early night.
Saturday morning and a tasty fry up with another portion of black pudding. Then a quick wonder through town allowed me to stumble upon the ONLY shop in Fort William that sold Stornoway black pudding only to find out they had SOLD OUT! All my plans to bring 3 whole puddings home with me were scuppered.
The Race
With our new shoes on, Chris's Mudclaw 333's, my Walsh PB Ultras, we wandered to playing field. The weather wasn't quite sure what it wanted to do. The forecast had suggested it might clear with occasional shower but I don't think anyone told the weather that. Occasionally the rain and mist tried to lift but minutes later the rain would start again and the cloud would close in again. I have always been a little worried about running races in the mist but I wasn't today. Maybe this is because I had already done the route and it wasn't new I don't know.
Having collected my race number, tag and free bottle of Ben Nevis Whisky (minature) we chatted to some familiar faces; Ian, Pauline (NLN), Emma and Daz H and Debbie Cooper from Lytham St Annes who I keep bumping into at races more and more.
After last years run my hope was to beat the 3hr mark which meant knocking at least 8 mins off last years time. Given conditions last year were clear and dry I was wondering of it was going to be an ask but it didn't bother me too much I felt good.
The pipers started to play and the runners all walked behind them to the start and the random kit checks. I had no soon got into the start box and the race started with a lap of the field and out on to the road. Passing the pub at the end of the road the climb on the hill starts and early on the runners start to split. The lower section of path has a few points where you cut off on to a higher part of the path (tourists would typically stay on the path zigzagging back and forth). My preference is to stay on the lower path until you have no choice to cut up. With the wet ground this year i felt these sections were a little slower to climb (or there was more traffic holding me back).
The race crowd carry on along this path until it turns back 170 degrees below red burn which is where the runners then follow a trod directly up to Red Burn. By now we were in the mist and the showers had returned along with an occasional breeze. I carried on and although a little tired I felt ok (considering). I'd managed to avoid looking at my watch as there were plenty of people around me so must have been doing ok for time. The sound of Red Burn was getting louder and I could hear voices of supporters and marshals ahead.
Red Burn: 57 mins (last year: 59 mins)
After Red Burn a quick left and up the scree route. In the mist you can't see that far ahead and I think that helps as you have no idea how far you have gone or even how far you still have to go. This seemed to help on the climb but it's these steeper ascents that I struggle with and I lose more places than normal.
As I continued up the scree the leaders started to come back down with such a pace that I can only imagine the information from their eyes to their muscles must block out any possible the signals the brain is sending about the potential pain they could inflict upon themselves at any moment.
Joining/crossing the zigzag paths higher up and the route gets a little busier with walkers. For the most part they are all quite friendly. Some cheer you on and others move aside when they hear you coming but you always seem to get a couple that want you to know your spoiling their day.
Marshalls had been placed at various points on the route and one set had been placed at the top of Gardyloo Gully where the path runs just aside from the top of it. Someth
ing I didn't quite realise last year is how steep the drop is of the edge of the summit. I'm not afraid of heights but I do get a little anxious when I think about being near somewhere like that (even just thinking about it gives me butterflies), I didn't hang around to have a look either. Generally I just keep focused on the path I need to take and only think about it afterwards. At the summit it's a quick hello to the marshals before heading back the way we came.
Summit: 1 hr 52 mins (last year: 1hr 59mins)
I think by this point the rain/showers had stopped but we were still in the mist. This is the start of "the easy bit" the descent. It's not easy! 4 miles of downhill is hard work on your legs. The path down from the summit was relatively easy to follow and I was quickly passed by local Lochaber runners. Soon enough you get to the scree run and I seemed to be in traffic. My walshes shoes were performing admirably so far. I dug in with my heels where I could but the traffic slowed me down and I didn't really want to head off the main trod. But every now and then there was a split in the path and most of the people in front tended to follow each other like lemmings and I saw the chances so took them and made up some places. However by the time I got down to Red Burn my legs were starting to ache and as I started in the grassy bank I had to slow. This
was probably a good thing though as it was very slippy and I can't blame the shoes for slipping a few times. Crossing the stream at the bottom of the bank we re-join the path and then the lower well paved section all the way to the road.
The path was still wet/damp in places and I've still not go confidence when traversing wet rocks. There is still this hesitation that holds me back. But it wasn't the rock that caught me out but the grass. I tried keeping to the very narrow trod besides the path and somehow misplaced my foot and tripped up, banging my knee in the process. This is probably the worst fall I have had in a race before but thankfully there were no badly placed rocks to cause me any further damaged and I was able to get straight up and carry on, if not a tad slower than before I tripped.
By the time I reached the pub at the start of the final road section I was convinced I had lost time on the descent. The traffic on the scree, the slow grassy bank, the damp rock on the path and the fall must have eaten into my time. On the road section though I did feel stronger than last year (although not too much stronger) and managed to pass a couple of people. Chris was waiting for me at the gate and I turned onto the field for the final lap round the pitch in to the finish.
Finish: 2 hr 59 min 03 sec (last year: 3 hr 07 mins 51 sec)
I was glad to have finished another Ben race and even happier to have finished in under 3 hours but can't help but think how much faster I might have been dry like last year.
Race over
Heading back to the car Chris and I washed our shoes and legs in the river. Two girls were chatting not far away and as we left and crossed the bridge I heard a slash and one of the girls say "Oh no, ma foone!" and then she started to take her shoes off to go in for it. Might not be much use now love!!
That night, after another visit to the Grog and Gruel where the starter again involved black pudding, we went along to the Ben Race presentation to collect our certificates and then headed to the NevisSports bar where they'd put a live group on to sing the night away. After a couple (or more) Bacardi & cokes the bar closed and we headed back to the hotel.
The morning came and after breakfast (Yep, more black pudding) we headed of and had an easy drive back stopping off at Bonnie Braes for a cup of tea before dropping Chris at Glasgow Airport.
A great weekend and I'll be completing my entry form again in January for next years attempt.
Total Black Pudding count = 12 slices in two days
I think I can safely say that my iron count wasn't low for the blood test I took the following Monday.